Automation of the logistics process - Etex
No more unexpected transports and manual submissions.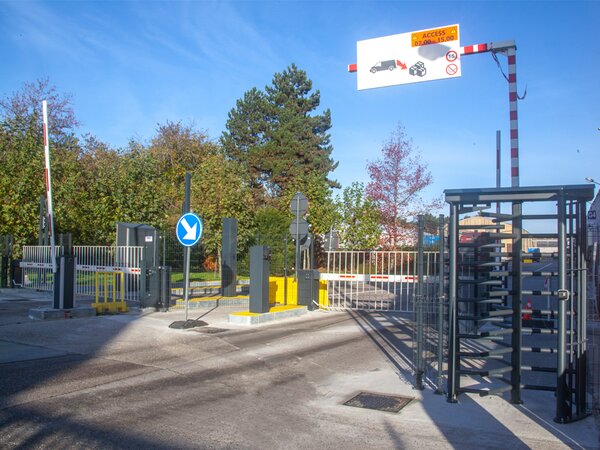 Thanks to automated entrance terminals, the registration process is automated, giving visitors full visibility on site.
The QSHE is also important because the terminal enables communication/acceptance of site safety rules for all visitors managed by the Yard Management System.
After registration, all truck drivers are contacted by SMS in their chosen language, prioritising truck traffic.
The mobile application for task management will optimise and facilitate operators' work during data collection.
The Yard Management System connects to the weighbridges, allowing real-time registration while avoiding manual work.
All visitor data is accessible at any time: timestamps, operations, photos, etc., avoiding administrative work.
Hardware
The entire outer perimeter of the production site was enclosed with fencing, barriers, turnstiles and passag gates.
Truck drivers and visitors should first go to one of the three self-registration terminals and sign in independently.
After registration, the truck driver will receive instructions by SMS in his native language. If allowed to enter the site, the driver will receive a PIN along with the location of the entrance to the site.
Site entrances and exits are equipped with kiosks and barriers.
Using badge readers, linked to the yard management system, each link in the loading/unloading process is logged in real time with a graphical dashboard visualising this process.
The visitor passageways are equipped with turnstiles and passage gates.
Civil works
To install the kiosks and barriers, traffic islands were constructed and cable conduits and cabling were installed.
To secure the barrier against collisions, the necessary safety loops were provided in the road surface.
SaaS-platform
All equipment is connected to a cloud-based ma­nage­­ment platform to set up, manage and ­monitor the logistic site. A network infrastructure was also provided to enable this.
Peripheral equipment is provided to ensure that the parking(s) continue to work at all times, even in case of internet outages.
The online platform controls all hardware equipment and records all system setting of the parking(s) such as; start time, end time, cash value, time value, number, reserved, weekly profile, rate calculation, company, participant etc.
A mobile application is also available via the online platform to track, enter, modify tasks and control the barriers.
The administrator has management rights to all data.
Through the various user roles, everyone has perfect visibility of their part of the logistics process to be managed/processed.
From this data, graphics can be drawn to gain insight into the various logistics processes.
Download the full reference case
User manuals, guides & drawings
Do you wish to consult these documents? Please log in using the button below.
Software & application downloads
Do you wish to consult these documents? Please log in using the button below.




Learn more about this logistics automation?
Don't hesitate to contact us.
PS. Your data is safe with us, we only use it to answer your question.